206 Newport Road,
Cardiff, Wales, UK, CF24 – 1DL
Biography of
Colonel Henry Steel Olcott
(1832-1907)
A co-founder of the Theosophical Society in New York in 1875 with William Q. Judge and an associate of Helena Petrovna Blavatsky.
He was a son of a merchant, born August 1st 1832 in Orange, New Jersey. His first writing attempt was the revision of the 1845 edition of The Descendants of Thomas Olcott. He even wrote a new preface. The family genealogy fascinated him.
He attended the City College of New York and Columbia University. Upon the failure of his father's business his formal education ended. He entered share-farming for two years working on various farms Then he returned to New York where he devoted himself to the scientific study of agricultural. At twenty-three his work won him recognition. In 1858 he wrote his first book. Sorgho and Imphee, the Chinese and African Sugar Canes. Now having expertise in agriculture he accepted the position of associate agricultural editor of the New York Tribune.
In 1859 Olcott volunteered to covered the Virginia lynching of John Brown for the Tribune. Although the Virginians had vowed no northern paper would cover the event, Olcott witnessed hanging and wrote a good story about it. Two years later he entered the Civil War on the side of the North but was afflicted with dysentery which ended his battle career. While recovering his superiors noticed his special abilities and made him a special commissioner to the War Department. His assignment was to investigate the charges of fraud and corruption in New York Mustering and Disbursing Office. He proved so zealous that the Navy Department borrowed him to clean up the abuses in the navy yards, and it was during this time that he was promoted to colonel.
After the war Olcott resigned his commission, but did not return to his former pursuits. He decided to study law. There is no record of him attending any university, so he probably read law for someone and attained his degree that way. He entered the new field of insurance law and retained many reputable clients including the City of New York and the Life Mutual Insurance Company of New York. The latter employed him to lobby for the insurance profession in the New York Legislature.
At 40 Olcott was reasonably well off. As a lawyer he was doing well, having enough money to enjoy some luxuries and do some freelance newspaper work. In 1868 he married Mary Epplee Morgan, a daughter of an Episcopalian minister. They had four children; two died, their third son lived only four months, and their daughter Betsy less than two years.
It seems that Betsy's death partly contributed to the souring of Olcott's marriage. There was a separation in 1874, and after that Olcott begun living in clubs and participating in worldly public and private undertakings and speculations. Even Helena Blavatsky later described him as "a gay dog" who kept a mistress and drank in clubs.
Some might have described him as a rogue, but in character this seemed not to be the case. People who knew him considered him to be a stereotype of a prosperous, middle-aged Yankee, who was unsophisticated, honest, energetic, and practical. But that was before he grew his Santa-Claus beard and stopped wearing shoes. However, even some of his enemies had to say he was a man of integrity and sincerity.
His first experience with psychical phenomena came in 1874 when the New York Daily Graphic sent him to investigate the phenomena of the Eddy Brothers in Vermont. After spending ten days at the Chittenden farm Olcott came away convinced of the authenticity of the phenomena. He summarized what he had experienced in fifteen articles which launched his career as a psychical investigator.
The Holmes scandal afforded Olcott his next big opportunity. Nelson and Jennie Holmes, husband and wife, were materialization mediums who had been accused of fraud. Helena Blavatsky arranged for further seances and for Olcott to witness them. She and Olcott had met at the Chittenden in Vermont. In a previous seance it was rumored that the Holmes, particularly Jennie, had impersonated Katie King, the daughter of the spirit John King. In the seance which Olcott witnessed, John King spoke again, clearing his daughter of all wrong doing and rapping out an account of what actually occurred before. His statement cleared the Holmes, and Katie King appeared in white again. Olcott knew it was not Jennie Holmes whom he had securely tied up. This strengthened Olcott's belief in psychical phenomena as well as the power of the Holmes.
After the Eddy and Holmes investigations Olcott was acknowledged as a creditable psychical researcher. When the professors of the Imperial University of St.
Petersburg, at the wish of the Grand Duke Constantine of Russia, decided to make a scientific investigation of Spiritualism, they asked Olcott and Helena Blavatsky to select the most qualified American medium. Henry Slade was their choice.
It must be said that from their first meeting at the Vermont farm Olcott seemed fascinated by Helena Blavatsky's psychic power; although, it must be remembered he was attracted to all psychical phenomena. Olcott seemed to have a love for it, as though the phenomena was a magnet drawing him toward it. This, taken in mind, one might question whether he was the creditable psychic investigator as many proclaimed. Also, this must be bore in mind when examining his future relationship with Helena Blavatsky.
In those early days Helena Blavatsky professed to have been controlled by the spirit of John King during which she specialized in precipitated writing, independent drawing and supernormal duplication of letters and other items. In the presence of Olcott and the Honorable John L. Sullivan she produced a $1,000 banknote which dissolved into a drawer.
These feats occurred after the founding of the Theosophical Society in New York 1875. Olcott, himself, witnessed more Theosophic feats performed by Blavatsky than anyone else. This was another reason why he eagerly assumed the presidency of
the Society. Even though the Society was actually the brainchild of Blavatsky, it can be said Olcott actually believed in it. Critics claim that Blavatsky manipulated him, which may be true to some extent, but Olcott actively participated in the Society's functions.
He sincerely believed in her power to produce illusions through hypnotic suggestion. He testified that the Madame disappeared from his presence in a closed room and appeared again a shot time later from nowhere. This admission appears in Olcott's records. Such evidence makes it intelligible to see why he
believed in the appearance of the Mahatmas and the souvenirs they left behind.
When Olcott and Madame Blavatsky were sailing to Bombay in 1878 they stopped in London, and A. P. Sinnett's The Early Days of Theosophy in Europe (1922) suggests that their manners were not becoming in polite society. It was speculated this caused the unfriendly feelings of the Psychical Research Society (PRS) which sparked the Hodgson investigation of the Theosophical Society that ended in Hodgson releasing a scathing report alleging fraud and trickery by Helena Blavatsky and her associates. This put a black mark on the Theosophical
Society for over 100 years. In 1986 the PRS published an article in its Journal calling the report prejudiced, saying that Hodgson had ignored all evidence favorable to Helena Blavatsky, and, that an apology was due.
Undoubtedly Olcott's greatest achievement was his public espousal of Buddhism that served to popularize the religion in Western countries. He converted to Buddhism in Ceylon in 1880. His Buddhist Catechism (1881) had been widely studied by Western Buddhists, and versions of it are still in print.
Olcott died February 17, 1907 at Adyar, India.
H P Blavatsky meets Colonel H S Olcott 1874
H P Blavatsky by Colonel Olcott
206 Newport Road,
Cardiff, Wales, UK, CF24 -1DL
Try these links for
more info about Theosophy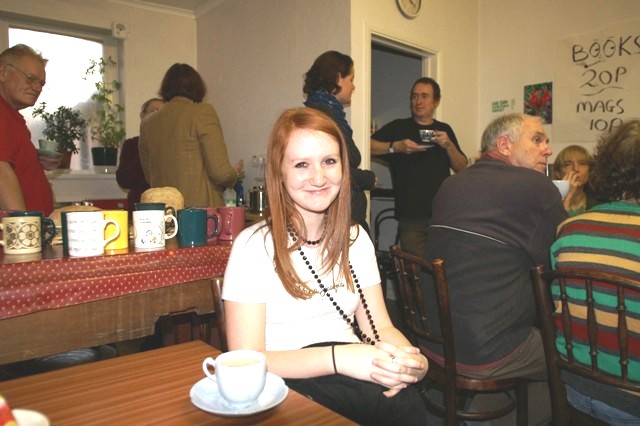 Cardiff Theosophical Society meetings are informal
and there's always a cup of tea afterwards
The Cardiff Theosophical Society Website
The National Wales Theosophy Website
Theosophy Cardiff's Instant Guide to Theosophy
Theosophy Cardiff's Gallery of Great Theosophists
Dave's Streetwise Theosophy Boards
The Theosophy Website that welcomes
If you run a Theosophy Study Group, please
feel free to use any material on this Website
Independent Theosophy Blog
One liners and quick explanations
About aspects of Theosophy
The Voice of the Silence Website
An Independent Theosophical Republic
Links to Free Online Theosophy 
Study Resources; Courses, Writings, 
The main criteria for the inclusion of
links on this site is that they have some
relationship (however tenuous) to Theosophy
and are lightweight, amusing or entertaining.
Topics include Quantum Theory and Socks,
Dick Dastardly and Legendary Blues Singers.
An entertaining introduction to Theosophy
For everyone everywhere, not just in Wales
It's all "water under the bridge" but everything you do
makes an imprint on the Space-Time Continuum.
A selection of articles on Reincarnation
Provided in response to the large number
of enquiries we receive on this subject
No Aardvarks were harmed in the
The Spiritual Home of Urban Theosophy
The Earth Base for Evolutionary Theosophy
____________________________________
A B C D EFG H IJ KL M N OP QR S T UV WXYZ
Complete Theosophical Glossary in Plain Text Format
1.22MB
___________________________
Classic Introductory Theosophy Text
A Text Book of Theosophy By C W Leadbeater
What Theosophy Is  From the Absolute to Man
The Formation of a Solar System  The Evolution of Life
The Constitution of Man  After Death  Reincarnation
The Purpose of Life  The Planetary Chains
The Result of Theosophical Study
_____________________
Preface to the American Edition    Introduction
Occultism and its Adepts    The Theosophical Society
First Occult Experiences   Teachings of Occult Philosophy
Later Occult Phenomena    Appendix
Try these if you are looking for a
local Theosophy Group or Centre
UK Listing of Theosophical Groups
________________________
& of course you don't need to live in Wales
to take advantage of this guide
______________________________

General pages about Wales, Welsh History
and The History of Theosophy in Wales
Wales is a Principality within the United Kingdom
and has an eastern border with England.
The land area is just over 8,000 square miles.
Snowdon in North Wales is the highest mountain at 3,650 feet.
The coastline is almost 750 miles long.
 The population of Wales as at the 2001 census is 2,946,200.