Theosophical Society, Cardiff Lodge
206 Newport Road,
Cardiff, Wales, UK. CF24 1DL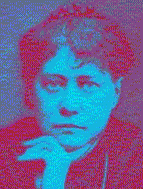 H P Blavatsky
Russia at the Time of H P Blavatsky's Birth
1826        Sep 26, The Persian cavalry was routed by the Russians at the Battle
of Ganja in the Russian Caucasus.
1827        Oct 20, British, French and Russian squadrons entered the harbor at
Navarino, Greece, and destroyed most of the Egyptian fleet there. The Ottomans
demanded reparations.
1828        Apr 26, Russia declared war on Turkey to support Greece's
independence.
1828        Aug 28, Leo Tolstoy (d.1910), Russian novelist, was born. His work
included "War and Peace" and  "Anna Karenina." "History would be an excellent thing if only it were true." "It is amazing how complete is the delusion that beauty is goodness."
1828        Russia conquered the Armenian provinces of Persia, and this brought
within her frontier the Monastery of Etchmiadzin, in the Khanate of Erivan,
which was the seat of the Katholikos of All the Armenians.
1829        Nov 16, Anton G. Rubinstein, Russian pianist, conductor and
composer, was born.
1829        Nov 20, Jews were expelled from Nikolayev and Sevastopol, Russia.
1829        Nov 28, Anton Rubinstein (d.1894), pianist and composer (Omitri
Doskoy), was born in Vykhvatinetz, Podolia. He was the teacher of Tchaikovsky and considered the only rival of Liszt. His work included 6 symphonies, dozens of concertos and chamber works, and 20 operas, of which only "The Demon" has shown staying power. It was based on Lermontov's Byronic poem.
c1830        Franz Kreuger painted a portrait of Empress Alexandra Fedorovna.
1830        Nicholas I ruthlessly repressed the insurrection in Poland.
1831        Feb 20, Polish revolutionaries defeated the Russians in the Battle
of Growchow.
1831        Feb 25, The Polish army halted the Russian advance into their
country at the Battle of Grochow.
1831        May 26, Russians defeated the Poles at battle of Ostrolenska.
H P Blavatsky born on the night of 30/31st July 1831
H P Blavatsky's Father Col. Peter Von Hahn
1832        Feb 26, The Polish constitution was abolished by Czar Nicholas I.
1833        May 2, Czar Nicholas banned the public sale of serfs.
1833        Nov 12, Aleksandr Porfirievich Borodin (d.1887), physician, chemist,
composer (Prince Igor), was born in Russia.  His work included the "Sunless" and the opera "Prince Igor,' which was left incomplete.
1833        Alexander Pushkin wrote his poem "The Bronze Horseman."
1834        Feb 8, Dmitri Ivanovich Mendeleyev (d.1907), Russian chemist, was
born. He formulated the periodic table of elements.
History of The Theosophical Society
Theosophical Society, Cardiff Lodge,
206 Newport Road,
Cardiff, Wales, UK, CF24 – 1DL.
For more info on Theosophy
Try these
Dave's Streetwise Theosophy Boards
This is for everybody not just people in Wales
Cardiff Lodge's Instant Guide to Theosophy
One Liners & Quick Explanations
The Most Basic Theosophy Website in the Universe
If you run a Theosophy Group you can use
this as an introductory handout
The Spiritual Home of Urban Theosophy
The Earth Base for Evolutionary Theosophy
Try these if you are looking for a
local Theosophy Group or Centre
UK Listing of Theosophical Groups
Worldwide Directory of Theosophical Links