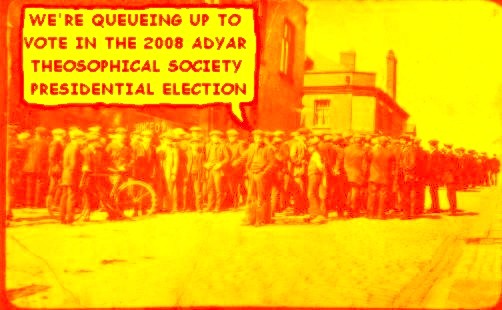 Results & Voting Figures for the
Adyar Theosophical Society
Presidential Election 2008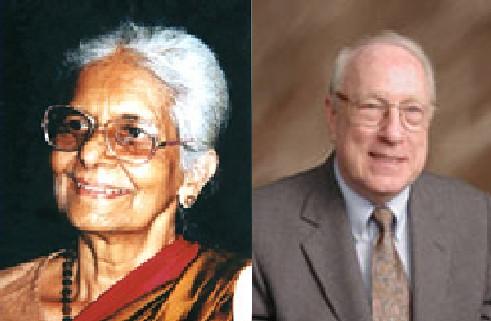 The Candidates Radha Burnier & John Algeo
Radha Burnier polled 8,560 Votes
John Algeo polled 4,323 Votes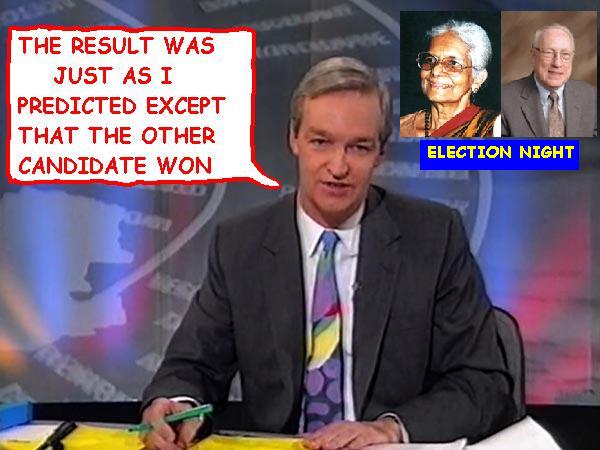 The 2008 Voting Figures
No.

Theosophy Group Name

Members
eligible to Vote

Votes
received

Votes for
John Algeo

Votes for
Radha Burnier

Invalid
Votes

1.

Africa, E./Central

229

141

28

113

-

2.

Africa, South

233

156

153

3

-

3.

Africa, West

196

45

6

39

-

4.

Am, Central* = El Salvador

14

14

-

5.

Argentina

238

187

39

140

8

6.

Asia , S.E.**

148

91

25

64

2

7.

Australia

908

408

238

158

12

8.

Austria

56

29

20

9

-

9.

Belgium

79

44

41

3

-

10.

Bolivia

92

71

59

10

2

11.

Brazil

572

379

66

306

7

12.

Canada ***

13.

Chile

20

18

14

4

-

14.

Colombia

40

33

32

1

-

15.

Costa Rica

45

33

4

29

-

16.

Cuba

303

201

179

22

-

17.

Dominican Rep.

38

33

16

14

3

18.

England

675

348

244

101

3

19.

Finland

382

219

157

62

-

20.

France

249

147

107

35

5

21.

Germany

98

68

44

24

-

22.

Greece

46

23

7

16

-

23.

Hungary

25

19

5

14

-

24.

Iceland

360

58

41

17

-

25.

India

9,061

6,861

729

6,110

22

26.

Indonesia

150

81

50

29

2

27.

Ireland

34

26

21

5

-

28.

Italy

1087

432

287

142

3

29.

Ivory Coast

10

10

4

6

-

30.

Mexico

141

14

127

-

31.

Netherlands

357

166

120

46

-

32.

New Zealand

583

292

188

93

11

33.

Norway

14

9

1

6

2

34.

Pakistan

124

69

5

64

--

35.

Peru

21

20

1

19

--

36.

Philippines

152

76

51

23

2

37.

Portugal

135

69

64

4

1

38.

Puerto Rico

43

20

14

6

--

39.

Scotland

92

34

18

16

--

40.

Slovenia

63

53

14

36

3

41.

Spain

261

148

95

50

3

42.

Sri Lanka

158

67

7

60

--

43.

Sweden

109

52

41

5

6

44.

Switzerland

41

19

16

3

-

45.

Togo

46.

U.S.A.

2,757

1,234

968

253

13

47.

Uruguay

34

18

14

4

-

48.

Venezuela

12

10

1

9

-

49.

Wales

(Excluding Cardiff) #

36

26

21

5

-

Lodges attached to Adyar

50.

Croatia (Zagreb)

11

10

1

9

-

51.

Israel (Tel Aviv)

59

31

20

11

-

52.

Japan (Tokyo)

40

21

11

10

-

53.

Singapore

202

193

6

187

-

54.

Ukraine (Kiev & Yalta)

15

15

-

15

-

55.

Ecuador (El Sol)

56.

Fellows at Large Totals

 
(Denmark, France, Honduras, Panama,
Russia, Vietnam)

31

25

16

9

-

GRAND TOTALS

20,724

12,993

4,323

8,560

110
* It was possible to organize voting in El Salvador only
** Voting results were not received from all areas in the S.E. Asia Presidential Agency
*** It was not possible to organize voting in Canada
# Cardiff Theosophical Society was not included in the 2008 Adyar Presidential Election.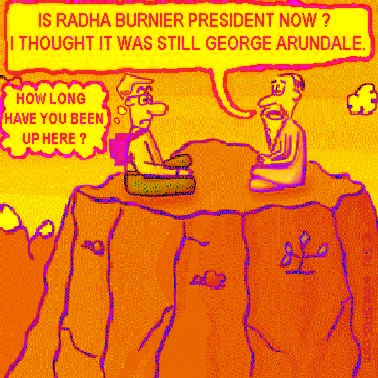 Radha Burnier received a majority of the votes
from 21 Theosophy Groups
East and Central Africa, West Africa, Argentina,
Southeast Asia, Brazil, Costa Rica, Croatia,
El Salvador, Greece, Hungary, India, Ivory Coast,
Mexico, Norway, Pakistan, Peru, Singapore,
Slovenia, Sri Lanka, Ukraine, and Venezuela.
John Algeo received a majority of the votes
from 32 Theosophy Groups
South Africa, Australia, Austria, Belgium, Bolivia, Chile, Colombia, Cuba, Dominican Republic, England, Finland, France, Germany, Iceland, Indonesia, Ireland, Israel,
Italy, Japan, Netherlands, New Zealand, Philippines,
Portugal, Puerto Rico, Scotland, Spain, Sweden,
Switzerland, United States of America, Uruguay,
Wales (Excluding Cardiff), and Fellows-at-Large.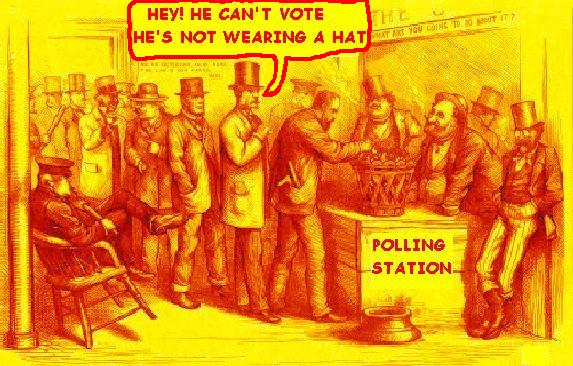 More Adyar 2008
Presidential Election Statistics
Percentage of vote
Radha Burnier 65.9%
John Algeo 33.3%
Invalid 0.8%
The Presidential Term is 7 years
___________________
Total Membership 2007                                      29,014
Members Eligible to Vote in the 2008 Election
(2 years membership)                                          20,724
Percentage eligible to Vote                                  71.4%
Members who voted                                             12.993
Percentage of eligible who voted                            62%
Percentage of total membership based on 2007
figures who voted                                                   44.7% 
Percentage of eligible who voted for
Radha Burnier                                                       41.3%
Percentage of eligible who voted for
John Algeo                                                              20.8%
Percentage of total membership based on 2007
figures who voted for Radha Burnier                    29.5%
Percentage of total membership based on 2007
figures who voted for John Algeo                          14.8%
206 Newport Road,
Cardiff, Wales, UK, CF24 -1DL
Try these links for
more info about Theosophy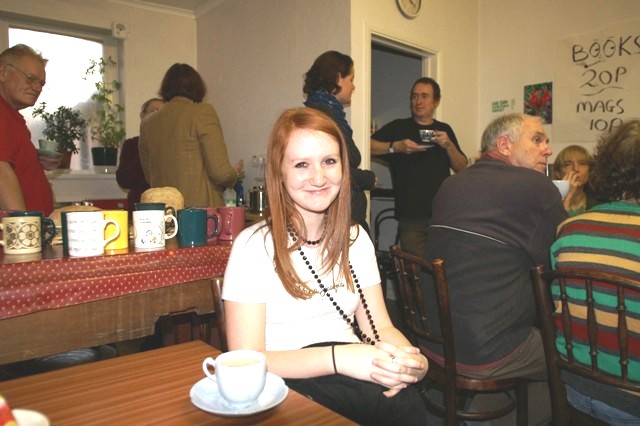 Cardiff Theosophical Society meetings are informal
and there's always a cup of tea afterwards
The Cardiff Theosophical Society Website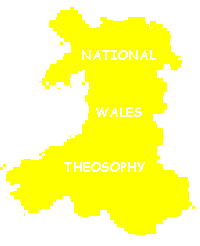 The National Wales Theosophy Website
Theosophy Cardiff's Instant Guide to Theosophy
Theosophy Cardiff's Gallery of Great Theosophists
Dave's Streetwise Theosophy Boards
The Theosophy Website that welcomes
If you run a Theosophy Study Group, please
feel free to use any material on this Website
Independent Theosophy Blog
One liners and quick explanations
About aspects of Theosophy
The Voice of the Silence Website
An Independent Theosophical Republic
Links to Free Online Theosophy 
Study Resources; Courses, Writings, 
The main criteria for the inclusion of
links on this site is that they have some
relationship (however tenuous) to Theosophy
and are lightweight, amusing or entertaining.
Topics include Quantum Theory and Socks,
Dick Dastardly and Legendary Blues Singers.
An entertaining introduction to Theosophy
For everyone everywhere, not just in Wales
It's all "water under the bridge" but everything you do
makes an imprint on the Space-Time Continuum.
A selection of articles on Reincarnation
Provided in response to the large number
of enquiries we receive on this subject
No Aardvarks were harmed in the
The Spiritual Home of Urban Theosophy
The Earth Base for Evolutionary Theosophy
____________________________________
A B C D EFG H IJ KL M N OP QR S T UV WXYZ
Complete Theosophical Glossary in Plain Text Format
1.22MB
___________________________
Classic Introductory Theosophy Text
A Text Book of Theosophy By C W Leadbeater
What Theosophy Is  From the Absolute to Man
The Formation of a Solar System  The Evolution of Life
The Constitution of Man  After Death  Reincarnation
The Purpose of Life  The Planetary Chains
The Result of Theosophical Study
_____________________
Preface to the American Edition    Introduction
Occultism and its Adepts    The Theosophical Society
First Occult Experiences   Teachings of Occult Philosophy
Later Occult Phenomena    Appendix
Try these if you are looking for a
local Theosophy Group or Centre
UK Listing of Theosophical Groups

General pages about Wales, Welsh History
and The History of Theosophy in Wales
Wales is a Principality within the United Kingdom
and has an eastern border with England.
The land area is just over 8,000 square miles.
Snowdon in North Wales is the highest mountain at 3,650 feet.
The coastline is almost 750 miles long.
 The population of Wales as at the 2001 census is 2,946,200.
/another-family-job-at-adyar.htm /cvk-maithreya-manifesto.htm /singapore-initiative.htm /control-adyar-or-control-nothing.htm
/good-reason-for-silence.htm /triumph-of-the-weak.htm /preethi-muthiah-adyar-profile.htm /abolitionofpresident.htm
/lack-of-representation.htm /carry-on-creeping.htm /preethi-muthiah-letters.htm /attitude-of-the-theosophical-elite.htm
/international-rules.htm /members-disqualified.htm /does-silence-mean-game-over.htm /gc-concerns-raised.htm
/make-way-for-the-messiahs.htm /hidden-bad-news.htm /something-wrong.htm /gc-2012-minutes.htm
/adyar-internal-problems.htm /beggars-at-the-door.htm /cannot-change-will-not-change.htm /new-committee-nov-7.htm
/victimisation-of-gc-member.htm /hey-look-a-job-for-his-daughter.htm /cvk-maithreya-manifesto.htm
/accountable-leadership-urgently-required.htm
President of Nothing Ballast Open Election? Adyar Adyar's Slightly International Convention
Will there be an Adyar Free Future? An Extra Box on the Ballot Paper A Society Without Members
Is the 2014 Adyar Presidential Election Invalid? Radha Burnier Employment Services
Don't Just Do Nothing Stand There Adyar, the Sole Purpose of Adyar Western President
Save Radha's House Ignore the Voters What an Insult to Members International Election Protocol
The Secrecy Banging the Drum for Theosophy Burnier Town Hall The Great Election Rip-Off
Keeping the International Headquarters at Adyar ABOLISHThe International President Bold Initiative
What is Behind the Attitude of the Theosophical Elite? Towards a New Model for Theosophy
Choose a Stooge SHUT UP & VOTE Members No Longer Members A Manifesto Anybody There?
Now Here's Something Worth Keeping Quiet About Is There Hidden Bad News? Something Wrong?
Control Adyar or You Control Nothing Elected Representation Not Representing Publicly Denounced
Make Way for the Messiahs Does Silence Mean Game Over Accountable Leadership Urgently Required
Can't Change Won't Change Beggars at the Door From The Top Down Who Owns Adyar? New Committee?
The Royal Court of Radha Burnier General Council Meeting 2013 Minutes Adyar Theosophical Society International Rules
Disgraceful Treatment of an Adyar Employee The Preethi Muthiah Letters Concerns Raised General Council 2012 Meeting Minutes
Adyar Internal Problems Is Adyar Still The Headquarters? Creep On! General Council Good Campaign Pitch, Mr Singhal
Adyar Prepares for the Break-Up Profile of Adyar Adyar Family Appointment Another Family Power Appointment
Triumph of the Weak Adyar Job News No Stand For Democracy Bent election? A Society Without Leadership
Who will Believe It? Supporting Adyar? Long Tradition of Bullying at Adyar Summary Dismissal Trouble at t'Mill
True Purpose of the 2014 Election What Makes this Election Invalid? Trouble Was Your Vote Counted?
Not Being at Adyar Democracy in the Adyar Theosophical Society R.I.P. 11,432 Votes No Right To Complain
President's Inauguration Pray Silence It's Silence as Usual Who Can Support The Leadership Now? Shut Up & Pay Up
President? Really? Adyar & the US each have Half a President The White Lotus Hi-Jack Don't Anybody Ask Me Anything
Is this the Great Wheaton Rip-Off? Master of the Small Event The Adyar Payments Scam CVK Maithreya Deserved Better Treatment
Staff Treatment At Adyar Is Wheaton Set To Support Adyar? CVK Maithreya is Presidential Why was Campaigning Banned
Adyar Allegations Climate of Fear Police Action Threatened QUICK The Prisoner of Adyartraz Preethi's Allegations 2014 Election
One Man, One Vote Poor Adyar Future CVK Maithreya For Vice-President The General Council Should Allow Visiting Adyar
D V Subramaniam's Posthumous Letter of Complaint The Amnesty International Paradox Did you get an Invite?
Serious Concerns Raised 2014 Election Result? The Sundaram Nomination Sham Call for Emergency Meeting
The Inauguration That Never Was Serious Concerns Election Committee Ignores Misconduct Bent Election Result
Suspend Call for Action Raise the White Flag Staff Bullying Why Did The 2014 Election Go Ahead? Tim Boyd
A Leadership at War Ignore the Bullying General Council Ignores Calls MONEY TO ADYAR? The Great Giveaway