Theosophical Society, Cardiff Lodge
206 Newport Road,
Cardiff, Wales, UK. CF24 1DL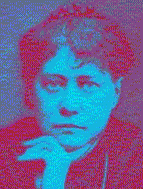 H P Blavatsky
Glossary Listing
In addition to the glossaries listed on this page, which are specifically Theosophical, we have included a link to a number of other glossaries which will be of interest to Theosophists and useful for research and study. A link to a Spanish version of H P Blavatsky's Theosophical Glossary has also been added.
H P Blavatsky's Theosophical Glossary
By H P Blavatsky
This Glossary is a reference for
By H P Blavatsky
First Published 1889
Theosophy and the Number Seven
A selection of articles relating to the esoteric
significance of the Number 7 in Theosophy
___________________________
H P Blavatsky
_____________________________
____________________________________
Theosophical Society, Cardiff Lodge
206 Newport Road,
Cardiff, Wales, UK, CF24 1DL
For more info on Theosophy
Try these
Dave's Streetwise Theosophy Boards
This is for everybody not just people in Wales
Cardiff Lodge's Instant Guide to Theosophy
One Liners & Quick Explanations
Cardiff Lodge's Gallery of Great Theosophists
The Most Basic Theosophy Website in the Universe
If you run a Theosophy Group you can use
this as an introductory handout
The Spiritual Home of Urban Theosophy
The Earth Base for Evolutionary Theosophy
Try these if you are looking for a
local Theosophy Group or Centre
UK Listing of Theosophical Groups
Worldwide Directory of Theosophical Links