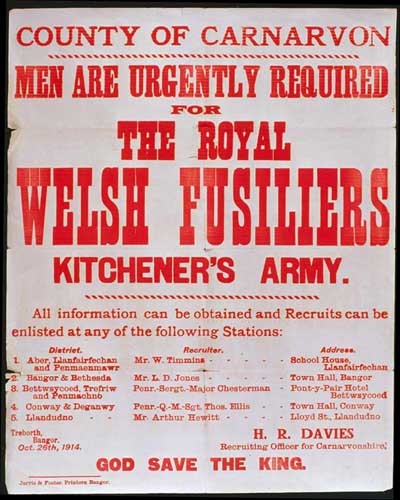 An October 1914 Royal Welsh Fusiliers recruitment poster
for Carnarvonshire, North Wales.
Theosophy and the Great War
The Horrors of War
By
Annie Besant
First Published November 23rd 1914
Theosophy and The Great War Index
WHAT is the duty of the journalist in time of war? Ought he, in order to enhearten  the nation for which he is writing, to record every ghastly story that comes from the scenes  of battle, and so inflame to madness the hatred against the foe? Ought he to publish stories, however well authenticated, which describe isolated crimes, due to the brutality of individuals, and which are not the deeds of armies, of soldiers under command, inflicted as part of a deliberate plan, a carrying out of a theory, but the shameful cruelties of human  madmen, vile actions due to individual lust and wickedness?
These questions arise in our mind an account of the large number of stories we find in the English papers received during the last few weeks. They contain the most frightful stories of German cruelties, tales that make the blood run cold. And one asks oneself: "Ought one to reprint these horrors, which are perhaps true? Does the circulation of these serve any good purpose? Must not their very reading tend to create a morbid taste for horrors, and to sow seeds of hatred that will bear ghastly fruit hereafter? Some of us know many Germans, kindly, gentle people, men and women. But Germany must have, as all nations have, alas! some human brutes among the masses of her kindly people, and these glut themselves with cruelties in the licence given by war. Shall we not rather draw a veil over them, and not blacken the German nation by their record? We do not judge England by her Bill Sykes, nor France by her Apaches. Why judge Germany by these?"
By published books, by the teachings of her statesmen, her historians, her Emperor, by the directions given to her soldiers, by these we may, and must, judge of the peril to the world of the German Empire. We are bound to say that this New Barbarism is a danger to humanity, to civilisation, to evolu­tion. We must nerve our readers to be ready to face to the death this Ideal of Darkness which has arisen in Europe, this negation of all that is noblest, this embodiment of Force as the only right. In this conflict of ideals we must speak out plainly, clearly, decisively. But with isolated facts that can only madden and debase in the reading, over these we think we have the right to be silent.
It would be interesting to know on this the views of leading journalists. Perhaps our Madras editors, and editors in other parts of India, would say what they think? - New India, November 23, 1914.
Theosophy and The Great War Index
206 Newport Road,
Cardiff, Wales, UK, CF24 -1DL
Try these links for
more info about Theosophy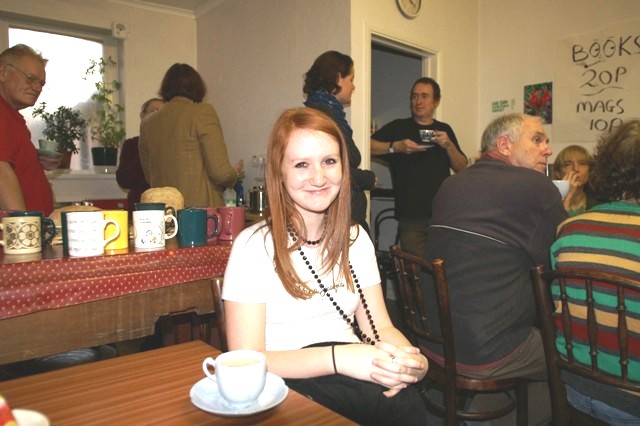 Cardiff Theosophical Society meetings are informal
and there's always a cup of tea afterwards
The Cardiff Theosophical Society Website
The National Wales Theosophy Website
Theosophy Cardiff's Instant Guide to Theosophy
Theosophy Cardiff's Gallery of Great Theosophists
Dave's Streetwise Theosophy Boards
The Theosophy Website that welcomes
If you run a Theosophy Study Group, please
feel free to use any material on this Website
This is for everybody not just people in Wales
Independent Theosophy Blog
One liners and quick explanations
About aspects of Theosophy
The Voice of the Silence Website
An Independent Theosophical Republic
Links to Free Online Theosophy 
Study Resources; Courses, Writings, 
The main criteria for the inclusion of
links on this site is that they have some
relationship (however tenuous) to Theosophy
and are lightweight, amusing or entertaining.
Topics include Quantum Theory and Socks,
Dick Dastardly and Legendary Blues Singers.
An entertaining introduction to Theosophy
It's all "water under the bridge" but everything you do
makes an imprint on the Space-Time Continuum.
A selection of articles on Reincarnation
Provided in response to the large number
of enquiries we receive on this subject
Within the British Isles, The Adyar Theosophical Society has Groups in;
Bangor*Basingstoke*Billericay*Birmingham*Blackburn*Bolton*Bournemouth
Bradford*Bristol*Camberley*Cardiff*Chester*Conwy*Coventry*Dundee*Edinburgh
Folkstone*Glasgow*Grimsby*Inverness*Isle of Man*Lancaster*Leeds*Leicester
Letchworth*London*Manchester*Merseyside*Middlesborough*Newcastle upon Tyne
North Devon*Northampton*Northern Ireland*Norwich*Nottingham
Perth*Republic of Ireland*Sidmouth*Southport*Sussex*Swansea*Torbay
Tunbridge Wells*Wallasey*Warrington*Wembley*Winchester*Worthing
No Aardvarks were harmed in the
The Spiritual Home of Urban Theosophy
The Earth Base for Evolutionary Theosophy
____________________________________
A B C D EFG H IJ KL M N OP QR S T UV WXYZ
Complete Theosophical Glossary in Plain Text Format
1.22MB
___________________________
Classic Introductory Theosophy Text
A Text Book of Theosophy By C W Leadbeater
What Theosophy Is  From the Absolute to Man
The Formation of a Solar System  The Evolution of Life
The Constitution of Man  After Death  Reincarnation
The Purpose of Life  The Planetary Chains
The Result of Theosophical Study
_____________________
Preface to the American Edition    Introduction
Occultism and its Adepts    The Theosophical Society
First Occult Experiences   Teachings of Occult Philosophy
Later Occult Phenomena    Appendix
Preface    Theosophy and the Masters    General Principles
The Earth Chain    Body and Astral Body    Kama – Desire
Manas    Of Reincarnation    Reincarnation Continued
Karma    Kama Loka    Devachan    Cycles
Arguments Supporting Reincarnation
Differentiation Of Species Missing Links
Psychic Laws, Forces, and Phenomena
Psychic Phenomena and Spiritualism
Try these if you are looking for a
local Theosophy Group or Centre
UK Listing of Theosophical Groups

General pages about Wales, Welsh History
and The History of Theosophy in Wales
Wales is a Principality within the United Kingdom
and has an eastern border with England.
The land area is just over 8,000 square miles.
Snowdon in North Wales is the highest mountain at 3,650 feet.
The coastline is almost 750 miles long.
 The population of Wales as at the 2001 census is 2,946,200.