Cardiff, Wales, UK, CF24 – 1DL.
>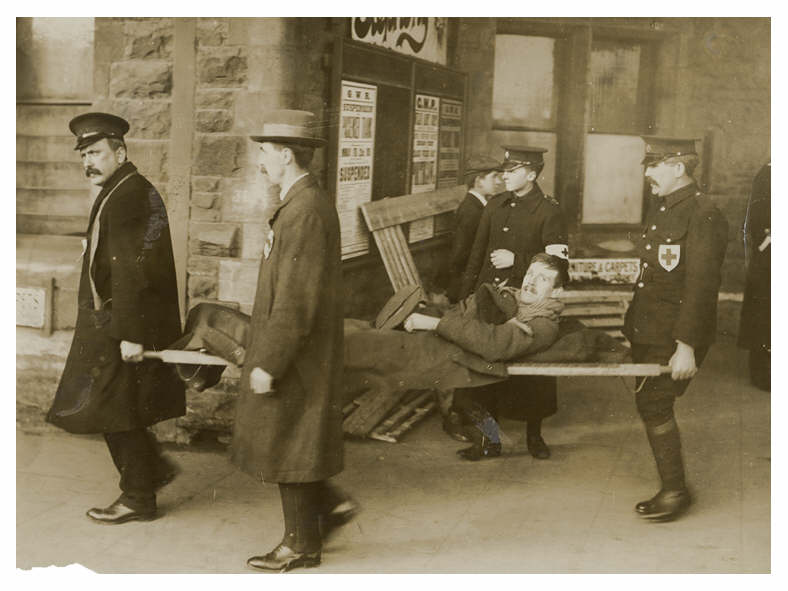 A wounded soldier is carried through
Cardiff Central Station 1915
and
The Great War
AKA
The First World War 1914 - 18
History of The Theosophical Society
By C Jinarajadasa
The Theosophical Society and the Great War
Published 1925
Writings by Annie Besant on the Great War
The Theosophical Society and the War
St George for England – and Why
East and West-The destinies of Nations
Britain's Place in the Great Plan
Lectures delivered in London in 1921 with a positive message
for the future in the aftermath of the Great War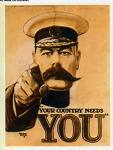 Lord Kitchener's "Your Country Needs You" recruitment poster.
Kitchener was appointed Secretary for War in 1914 and went on
to raise the largest army Britain has ever had. He was drowned
when his ship hit a mine in 1916.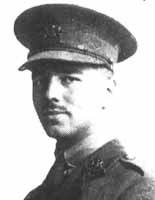 Wilfred Edward Salter Owen, MC
(March 18, 1893 – November 4, 1918)
Dulce et Decorum Est
By
Wilfred Owen
Bent double, like old beggars under sacks,
Knock-kneed, coughing like hags, we cursed through sludge,
Till on the haunting flares we turned our backs
And towards our distant rest began to trudge.
Men marched asleep. Many had lost their boots
But limped on, blood-shod. All went lame; all blind;
Drunk with fatigue; deaf even to the hoots
Of tired, outstripped Five-Nines that dropped behind.
Gas! Gas! Quick, boys! –  An ecstasy of fumbling,
Fitting the clumsy helmets just in time;
But someone still was yelling out and stumbling,
And flound'ring like a man in fire or lime . . .
Dim, through the misty panes and thick green light,
As under a green sea, I saw him drowning.
In all my dreams, before my helpless sight,
He plunges at me, guttering, choking, drowning.
If in some smothering dreams you too could pace
Behind the wagon that we flung him in,
And watch the white eyes writhing in his face,
His hanging face, like a devil's sick of sin;
If you could hear, at every jolt, the blood
Come gargling from the froth-corrupted lungs,
Obscene as cancer, bitter as the cud
Of vile, incurable sores on innocent tongues,
My friend, you would not tell with such high zest
To children ardent for some desperate glory,
The old Lie; Dulce et Decorum est
Pro patria mori.
                     October 1917
DULCE ET DECORUM EST
The first words of a Latin saying (taken from an ode by Horace). The words were widely understood and often quoted at the start of the First World War. They mean "It is sweet and right."
The full saying ends the poem: Dulce et decorum est pro patria
mori - it is sweet and right to die for your country. In other words, it is a wonderful and great honour to fight and die for your country 
Writings by C W Leadbeater
on The Great War or in response to
the bereavement caused by the War
Life after Death & Reincarnation
The slaughter of the Battle of the Somme 1916 leads to a
great public demand for lectures on Reincarnation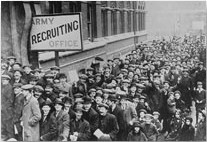 The Rush to Enlist
Cardiff 1914
Cardiff in March 1918
Less enthusiasm as new recruits, probably conscripts,
form up outside the Co-operative building at the corner
of Bute Terrace and Mary Ann Street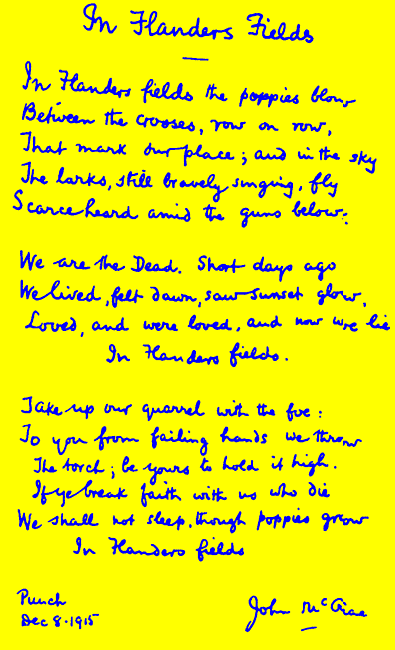 In Flanders Fields by Major John McRae.
The idea of Poppies as a symbol of Remembrance
is said to come from the imagery of this poem.
The call to continue the fight, in the last verse, precludes it from
being an anti-war poem but it was written in 1915 before battles
like The Somme, Passchendaele and Vimy Ridge and the futility
of the war seems to have not yet sunk in.
The Green Fields Of France
An Anti-War Song by Eric Bogle
Well, how do you do, Private William McBride,
Do you mind if I sit down here by your graveside?
And rest for awhile in the warm summer sun,
I've been walking all day, and I'm nearly done.
And I see by your gravestone you were only 19
When you joined the glorious fallen in 1916,
Well, I hope you died quick and I hope you died clean
Or, Willie McBride, was it slow and obscene?
Chorus
Did they Beat the drum slowly, did the play the pipes lowly?
Did the rifles fir o'er you as they lowered you down?
Did the bugles sound The Last Post in chorus?
Did the pipes play the Flowers of the Forest?
And did you leave a wife or a sweetheart behind
In some loyal heart is your memory enshrined?
And, though you died back in 1916,
To that loyal heart are you forever 19?
Or are you a stranger without even a name,
Forever enshrined behind some glass pane,
In an old photograph, torn and tattered and stained,
And fading to yellow in a brown leather frame?
The sun's shining down on these green fields of France;
The warm wind blows gently, and the red poppies dance.
The trenches have vanished long under the plow;
No gas and no barbed wire, no guns firing now.
But here in this graveyard that's still No Man's Land
The countless white crosses in mute witness stand
To man's blind indifference to his fellow man.
And a whole generation who were butchered and damned.
And I can't help but wonder, no Willie McBride,
Do all those who lie here know why they died?
Did you really believe them when they told you "The Cause?"
Did you really believe that this war would end wars?
Well the suffering, the sorrow, the glory, the shame
The killing, the dying, it was all done in vain,
For Willie McBride, it all happened again,
And again, and again, and again, and again.
Armistice Day, Sunday November 11th 2007

August 3, 1887 – April 23, 1915
IV 'The Dead' by Rupert Brooke
History of The Theosophical Society
206 Newport Road,
Cardiff, Wales, UK, CF24 -1DL
Try these links for
more info about Theosophy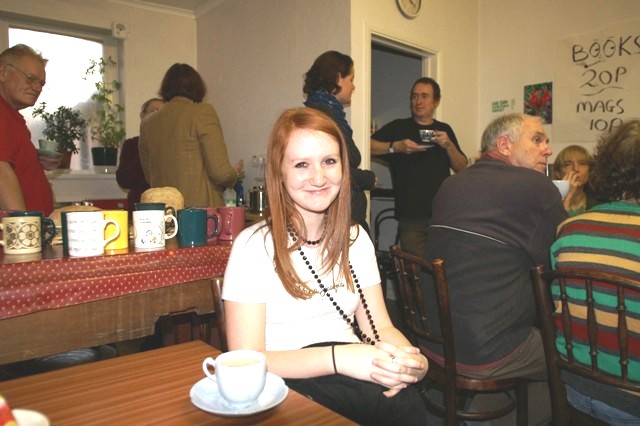 Cardiff Theosophical Society meetings are informal
and there's always a cup of tea afterwards
The Cardiff Theosophical Society Website
The National Wales Theosophy Website
Theosophy Cardiff's Instant Guide to Theosophy
Theosophy Cardiff's Gallery of Great Theosophists
Dave's Streetwise Theosophy Boards
The Theosophy Website that welcomes
If you run a Theosophy Study Group, please
feel free to use any material on this Website
This is for everybody not just people in Wales
Independent Theosophy Blog
One liners and quick explanations
About aspects of Theosophy
The Voice of the Silence Website
An Independent Theosophical Republic
Links to Free Online Theosophy 
Study Resources; Courses, Writings, 
The main criteria for the inclusion of
links on this site is that they have some
relationship (however tenuous) to Theosophy
and are lightweight, amusing or entertaining.
Topics include Quantum Theory and Socks,
Dick Dastardly and Legendary Blues Singers.
An entertaining introduction to Theosophy
It's all "water under the bridge" but everything you do
makes an imprint on the Space-Time Continuum.
A selection of articles on Reincarnation
Provided in response to the large number
of enquiries we receive on this subject
Within the British Isles, The Adyar Theosophical Society has Groups in;
Bangor*Basingstoke*Billericay*Birmingham*Blackburn*Bolton*Bournemouth
Bradford*Bristol*Camberley*Cardiff*Chester*Conwy*Coventry*Dundee*Edinburgh
Folkstone*Glasgow*Grimsby*Inverness*Isle of Man*Lancaster*Leeds*Leicester
Letchworth*London*Manchester*Merseyside*Middlesborough*Newcastle upon Tyne
North Devon*Northampton*Northern Ireland*Norwich*Nottingham
Perth*Republic of Ireland*Sidmouth*Southport*Sussex*Swansea*Torbay
Tunbridge Wells*Wallasey*Warrington*Wembley*Winchester*Worthing
No Aardvarks were harmed in the
The Spiritual Home of Urban Theosophy
The Earth Base for Evolutionary Theosophy
____________________________________
A B C D EFG H IJ KL M N OP QR S T UV WXYZ
Complete Theosophical Glossary in Plain Text Format
1.22MB
___________________________
Classic Introductory Theosophy Text
A Text Book of Theosophy By C W Leadbeater
What Theosophy Is  From the Absolute to Man
The Formation of a Solar System  The Evolution of Life
The Constitution of Man  After Death  Reincarnation
The Purpose of Life  The Planetary Chains
The Result of Theosophical Study
_____________________
Preface to the American Edition    Introduction
Occultism and its Adepts    The Theosophical Society
First Occult Experiences   Teachings of Occult Philosophy
Later Occult Phenomena    Appendix
Preface    Theosophy and the Masters    General Principles
The Earth Chain    Body and Astral Body    Kama – Desire
Manas    Of Reincarnation    Reincarnation Continued
Karma    Kama Loka    Devachan    Cycles
Arguments Supporting Reincarnation
Differentiation Of Species Missing Links
Psychic Laws, Forces, and Phenomena
Psychic Phenomena and Spiritualism
Try these if you are looking for a
local Theosophy Group or Centre
UK Listing of Theosophical Groups

General pages about Wales, Welsh History
and The History of Theosophy in Wales
Wales is a Principality within the United Kingdom
and has an eastern border with England.
The land area is just over 8,000 square miles.
Snowdon in North Wales is the highest mountain at 3,650 feet.
The coastline is almost 750 miles long.
 The population of Wales as at the 2001 census is 2,946,200.